In this post, we will check one of the best free data recovery software. As a software company EaseUS, I have been using a number of practical tools over the years. I have come to recommend their data recovery software this time.
Up to 2GB data can be rescued, as for the paid professional version, no limitation is put on the data can be recovered.
If you often encounter data loss, don't rush to send file rescue company, perhaps EaseUS Data Recovery Wizard can meet your needs and help you out of the trouble.
It must be that you've lost some important files and need to save them back if you find this article in front of the computer. Visit the product page of EaseUS data recovery software, you will find there are two kinds – Free Free and Pro Professional. And the Paid Wizard can be divided into three versions.
The free version has limited data rescue capacity. The paid professional version can be upgraded for free for life. Advanced players can choose to have the WinPE version.
As for the missing information in various situations and the possible file type that can be recovered is also clearly presented on that page.
EaseUS Data Recovery Wizard interface is very simple. People with no IT knowledge can apply it smoothly. After install and launch the software, first, choose to the hard drive/device or folder to recover your data.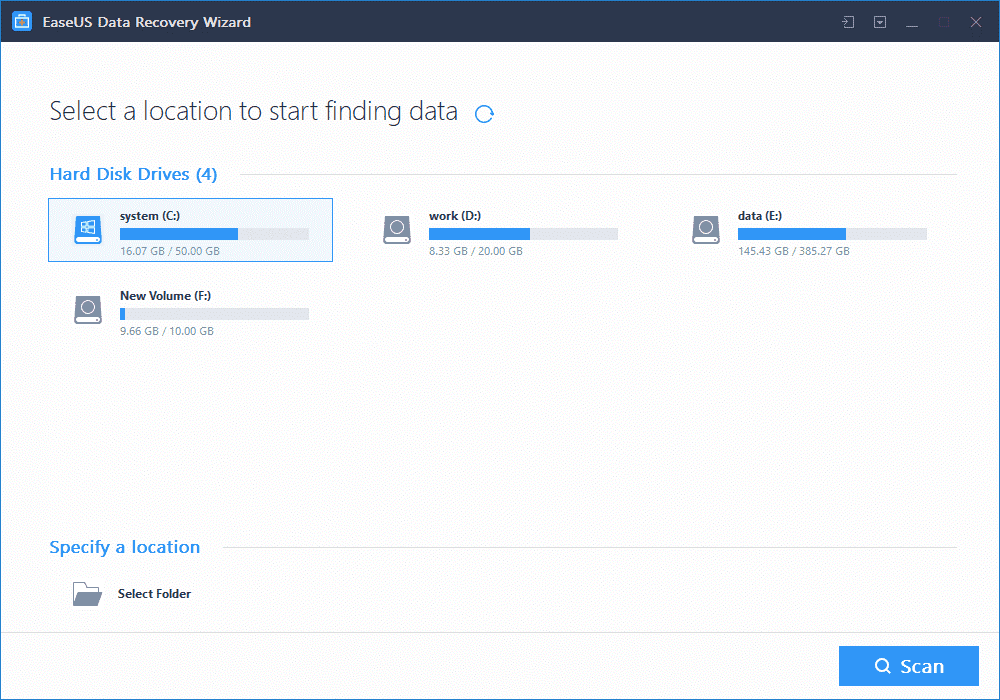 After that, two scan modes will automatically start. And that can be simply taken as quick and deep scan. After the quick scan, you can find some lost data listing in the interface, meanwhile, the deep scan is undergoing for more lost data searching.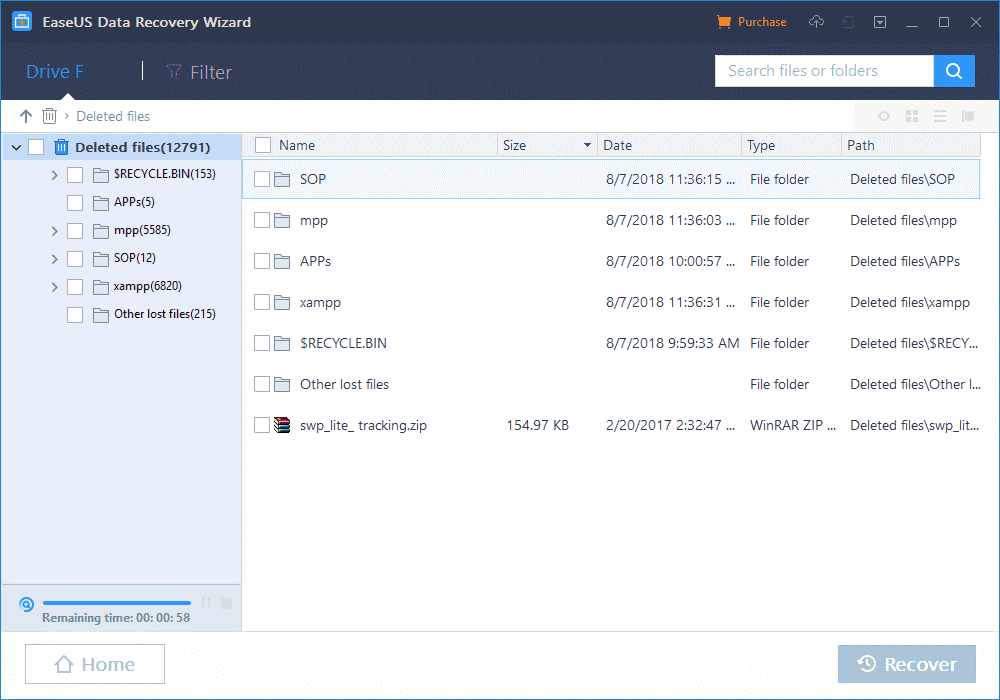 More file will be indexed during the deep scan. So, if your target file doesn't show after the quick scan. Just wait for a while longer.
There is a file search button. It helps to filter all found files according to their type, time, etc. With it, you can find your file accurately without checking one by one. After finding the file, select it and press Recover, you can save it back!
Perhaps you will ask, it assumes to recover 2 GB data with the free version, but how comes it is only 500MB?? Then, do what's following. Refer to the button next to the orange key on the picture above.
After clicking the Facebook or Twitter button, you will have an additional 1.5GB, which means that the free version has 2GB recovery capacity.
When the recovery is complete, you will be taken out of the window. You can use the community promotion button to let friends know that you are using the EaseUS Data Recovery Wizard for file rescue.
If you delete or format the hard disk area, you can find the partition displayed by the * symbol on the main screen, and click Scan to save the lost partition file.
I'd like to introduce EaseUS Data Recovery Wizard for data recovery as the free version can help a lot for a small amount of data rescue. And the free version can be taken full advantage to check if it really helps to find the lost data before buying the pro version.